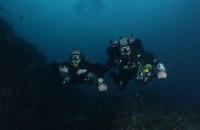 The Tec 45 course picks up where Tec 40 leaves off and takes your training as a tec diver further and deeper. It is the second subcourse in the full PADI Tec Diver course . What you will gain from this course includes the skills and equipment and planning needed to dive to a maximum of 45 metres/145 feet, the knowledge to plan and execute single and repetitive decompression dives using a single stage cylinder of EANx or oxygen to accelerate or add conservatism to the decompression stops.
There would be no time limit to amount of decompression.
Prepare for and respond to foreseeable technical diving emergencies.
Master the basic skills and procedures you'll need as you move into deeper technical diving